McNeil River State Game Sanctuary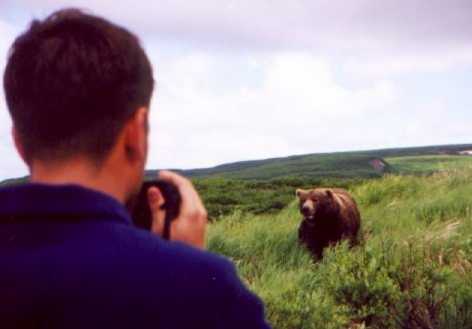 Hanging out with "Waldo" in Alaska. A 800 pound male bear who frequents McNeil River.
For the past three years my mom and I have been applying for permits to go see the "River of Bears" up in the State of Alaska. In 1999 we finally won two permits! 2500 people apply for permits each year and only 175 are given out. The Alaska Department of Fish and Game strictly regulates the number of people who are able to visit the sanctuary. Needless to say, we were very lucky!
McNeil River, in southwest Alaska, is home to the largest gathering of bears in the world. Each year they come to feast on the salmon that make their way up Mikfik Creek and McNeil River. It is an absolutely amazing experience and one I will never forget. I have included some pictures of our trip. I hope you enjoy them!
THE BEAR PICTURES!!
(Take a trip with me to McNeil River in this narrated picture gallery)
OTHER MCNEIL RIVER PAGES AND LINKS
[Home] | [Work] | [Photos] | [Resume] | [Fun] | [Links] | [Email]